In relation to the sale of batteries, accumulators or devices powered by batteries or accumulators and according to the directive 2006/66/EC on batteries and accumulators and waste batteries and accumulators, as a seller we are obliged to inform our customers about the relevant regulations and obligations:

Used batteries must not be disposed of as household waste. Consumers are obliged by law to give batteries to an appropriate commercial or municipal collection point which is free of charge for the consumer. You can also send your used (rechargeable) batteries back to us, stamped and to the following address:

PCE Instruments UK Ltd
Unit 11 Southpoint Business Park
Ensign Way, Southampton
Hampshire

United Kingdom, SO31 4RF

Used batteries may contain pollutants or heavy metals which can harm the environment and human health. Moreover, batteries contain valuable raw materials which can be recycled. Thank you for protecting our environment.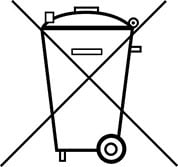 The bin symbol means: (Rechargeable) batteries must not be disposed of as household waste.
The icons below the bin mean:
Pb: Battery contains lead
Cd: Battery contains cadmium
Hg: Battery contains mercury


Pb Cd Hg
You can also find this information in the accompanying documents of your delivery or in the user manual of the manufacturer of the respective device.

For more detailed information on the directive, please see the website http://eur-lex.europa.eu/homepage.html?locale=en.