PCE Instruments (PCE) is an international supplier of test instruments, tools and equipment for measuring, weighing and control systems. Founded by German engineers nearly two decades ago, PCE offers more than 500 test instruments with applications in industrial engineering and process control, manufacturing quality assurance, scientific research, trade industries and beyond. PCE's large test instrument portfolio includes handheld, desktop, portable or fixed-installation sensors, meters, gauges, scales, analyzers, detectors, data loggers and inspection cameras branded by PCE and other first-class manufacturers from around the globe.
In addition, PCE can provide custom test instruments on demand. The DIN EN ISO 9001-certified PCE Product and Development Company GmbH produces test instruments tailored to meet unique customer needs. PCE serves customers from government,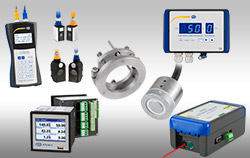 industry and academia in diverse fields such as acoustical engineering, aerospace, agriculture, archaeology, architecture, automotive, aviation, bioengineering, building inspection, chemistry, civil engineering, computer science, construction, data acquisition, education, electrical engineering, energy, environmental science, food processing, forensics, forestry, geology, government, horticulture, HVAC, hydrology, industrial hygiene, law enforcement, library science, logistics, machining, maintenance, manufacturing, materials science, mechanical engineering, metal working, meteorology, military, mining, nondestructive testing (NDT), occupational health and safety, oil and gas, pharmaceuticals, property management, pulp and paper, physics, robotics, structural engineering, supply chain, transportation, tribology, veterinary science, water treatment, welding, woodworking and more. By capitalizing on the expert knowledge and extensive experience of PCE's engineers and technicians to create custom-built test instruments, customers in almost any field can obtain professional tools and equipment designed specifically for their applications.
PCE's mix of stock and custom test instruments ensures the company remains a trusted partner for professional tools and equipment used in measuring, weighing and control systems.
Test instruments can be found in research laboratories as well as in places like automobile repair shops, construction job sites and manufacturing facilities. Test instruments are used in trade industries for troubleshooting as well as for routine inspections of systems and equipment. Companies big and small need accurate, affordable test instruments for use in product research and development (R&D), quality control, condition monitoring, workplace safety, and more. From accelerometer devices used to measure vibrations and oscillations in machinery to wood moisture meter products designed to determine the humidity of lumber, PCE Instruments' breadth of test instrument product offerings covers a full range of practical applications. Everyday consumers also need accurate, affordable test instruments for evaluating home energy efficiency, monitoring wind conditions for outdoor recreational activities, checking soil moisture levels in the garden, and more. For these types of applications, PCE Instruments offers a number of easy-to-use test instruments — no expert knowledge required.
PCE's devices are of the highest industry standards, and are used for quality control and product testing in industrial settings, scientific research facilities, commercial businesses, government institutions, professional sports and recreation venues, and military operations. In addition, PCE's test instruments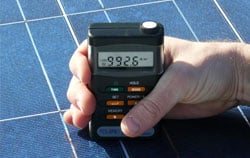 may be used in education for classroom demonstrations and laboratory tests. Electricians use PCE test instruments for assessing electrical installations in their daily work. Test instruments are used in the testing, adjusting and balancing (TAB) of heating, ventilation and air conditioning (HVAC) systems, and since energy saving is of pivotal importance on the global level, it is a must to use the latest and most progressive equipment in this sphere. Even solar panel installers use PCE test instruments during the installation and testing of solar panels. Regardless of the intended application, all PCE test instruments are delivered manufacturer calibrated. Plus, PCE Instruments stands by the quality of its test instruments by offering a warranty against manufacturer defects.
The wide range of test instruments supplied by PCE ensures that no matter the customer need, PCE has a solution — from portable handheld devices for testing in the field to fixed-installation test instruments permanently mounted for continuous monitoring in a facility or at a job site. Let PCE Instruments be your partner for virtually any measuring, weighing or control systems equipment.
PCE Instruments is also a consultancy company, providing services for custom test instrument design, installation, calibration, maintenance and on/off site monitoring. One of our associates can supply you with the support you need to tackle that large project or installation. With more than 20 years in the industry as a company, and with the hundreds of combined years of experience shared between our knowledgeable associates, PCE Instruments can help solve almost any measuring problem, large or small. We are interested not only in test instrument sales, but also in the development of new measuring solutions to benefit our customers. Our associates attend training courses regularly to keep up with the latest technical innovations and upgrade the capabilities of our test instruments accordingly. Ultimately, PCE strives to provide customers with products and solutions that make measuring tasks quick and easy while maintaining a high level of accuracy, so we embrace new technologies that help accomplish these objectives.
Calibration of Test Instruments
All PCE test instruments, tools and equipment for measuring, weighing and control systems are factory or manufacturer calibrated. Should you company require ISO (or DAkkS) calibration,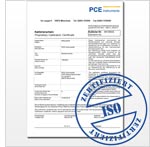 ISO (or DAkkS) calibration certificates can be acquired as an optional accessory at additional cost to most test instruments. While we do not offer NIST calibration, ISO calibration is accepted as an NIST equivalent in the United States, as ISO calibration is respected worldwide.
An ISO calibration certificate should list all measured values obtained during testing and calibration to confirm the device meets the applicable ISO standard(s). Each ISO calibration certificate is personalized for the customer; therefore, ISO calibration certificates are exempt from the right of return.
For example, if a customer orders a digital dew point thermometer with an ISO calibration certificate, the thermometer is calibrated at two temperature points (e.g., -10°C / +14°F and +60°C / +140°F) according to the applicable ISO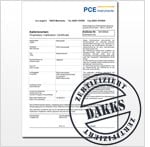 standard. The calibration procedure is documented, and the customer receives a special test report including his/her company name and address as well as a reference to the specific instrument used during testing and calibration.
Some test instruments, such as scales and balances, are verified as legal for trade. If a scale or balance is verified as legal for trade, this important feature will be noted in the product description. The legal-for-trade designation applies mainly to commercial use when goods are valued and sold based on weight. The legal-for-trade verification must be renewed after a certain time period. Also, if the scale or balance ever needs repair, a re-verification must be performed on the instrument to ensure the proper level of accuracy is maintained.
PCE Instruments has offices in the following locations:
1. PCE Iberica S.L. - Spain
2. PCE Instruments Denmark ApS - Denmark
3. PCE Deutschland GmbH - Germany
4. PCE Americas Inc. - United States
5. PCE Instruments UK Ltd. - United Kingdom
6. PCE Instruments France Eurl - France
7. PCE Italia S.R.L.- Italy
8. PCE Instruments Polska Sp. z o.o. - Poland
9. PCE Instruments Hong Kong Ltd. - Hong Kong
10. PCE Teknik Cihazlar Ltd. Sti.- Turkey
11. PCE Brookhuis B.V - Netherlands

PCE's videos provide valuable insight into the company as well as demonstrate how to use various test instruments in practical scenarios. To visit PCE's YouTube channel of informational and how-to videos,

click here.
Product Category Introductions
Application Story: PCE Test Instruments in the Antarctic
It's no secret that the weather in the Antarctic is extreme. The highest recorded wind speed in Antarctica is 27 km/h / 199 mph, while the temperature can creep down to as low as -80°C / -112°F. To find out whether a number of PCE's test instruments could withstand use under harsh Antarctic conditions, PCE Instruments outfitted a team of Antarctic-bound researchers with test instruments for measuring airflow as well as ozone, pH and ultraviolet (UV) light levels. The researchers conducted astronomical, geological, ornithological and environmental surveys in the Antarctic with great success, thanks in part to PCE's test instruments.
While most PCE test instruments aren't subject to Antarctic-like conditions, PCE's test instruments are designed to endure daily use in diverse environments. Depending on the intended application of the device, a PCE test instrument will feature a durable housing built to withstand a certain level of ingress of dust and water. In fact, many PCE test instruments include a specific ingress protection class or ingress protection (IP) rating in the product's technical specifications. The IP rating system is a widely recognized set of international standards related to an electronic device's ability to protect against the intrusion of foreign bodies. This rating is typically presented as the letters I and P followed by a two-digit number, i.e., "IP##." The first digit of the number pertains to solids, while the second digit pertains to liquids. The higher the digit, the greater the level of protection afforded by the device.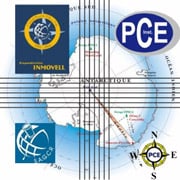 Exact measurement is an absolute must to guarantee quality work. Thus, precise and reliable test instruments are essential tools of nearly every trade. PCE Instruments offers a wide range of test instruments, from true-RMS digital multimeters to concrete rebound test hammers and beyond.
With so many test instruments to choose from, how do I find the right one for my application?
First, it is necessary to define the physical, electrical or chemical parameters to be measured. In other words, to measure temperature, a thermometer is needed. If weight must be determined, a scale or balance is required. When the parameters are not so clearly defined, often you can look to your industry's standards or best practices for guidance. If the substance or material to measured is new or has yet to be identified, a variety of test instruments may be required to determine the characteristics for classification. For example, a metal can be characterized by its conductivity, magnetism, hardness, etc.
How often will the test instrument be used?
For test instruments used daily, reliability is paramount. Nothing is more annoying than when a device is out of service, especially when there is no backup device on hand. Of course, reliability is important even for test instruments that are used sporadically. PCE Instruments stands by the reliability of its test instruments by offering a two-year warranty against manufacturer defects. Unfortunately, some test instrument manufacturers will sacrifice reliability and other features for cost savings. This leads to the following question:
What features are required?
Different test instruments have different features. These features may be:
- Data memory: A test instrument may or may not have the ability to save measurement data. If a test instrument has memory, the memory either can be found internally (i.e., built into the device) or on a removable SD card. In addition, the memory size will differ greatly. For example, if a test instrument is meant to be used for long-term monitoring, the memory size will be much larger as the instrument will need to store more measurement data. If a test instrument solely is meant to take readings on the spot, the memory size will be significantly smaller as the instrument will need to store much less data.
- Data logging: This feature allows for long-term monitoring. Measurements are taken at a specific interval (e.g., once every second, twice per minute, etc.) over a period of time. Often the frequency and length of the interval is adjustable and can be programmed to meet the unique needs of the application. After each measurement is captured, a date- and time-stamped record is saved to and stored on the memory.
- Data interface: To transfer measurement data to a PC, printer, laptop or smartphone, a data interface is required on most test instruments. Common data interfaces typically available on test instruments are: USB, RS-232, RS-485 or Bluetooth. However, test instruments with a removable SD card memory are an exception. A test instrument with an SD card memory does not necessarily require one of the aforementioned data interfaces to transfer measurement data, as the SD card itself is the vehicle for data transfer. The SD card can be placed into an SD card reader to transfer the measurement data.
- Filter: Some test instruments offer the possibility to filter the displayed measured value. For example, in a sound level meter, the displayed measured value might be filtered over an A- or C-weighted frequency. In a wind speed meter, the displayed measured value could be filtered by the maximum, minimum or average wind speed.
Another important feature to keep in mind is the level of service and support provided by the test instrument supplier. Different test instrument suppliers provide different levels. To find out what kind of support will be available to you as a customer, call the supplier and talk to the technical support team prior to purchasing to see for yourself the level of service provided. Also find out how long the supplier has been in business. The longer the company's tenure, the more likely it is that you will be able to order spare parts a few years down the road after buying your test instrument.
You can rest assured you have made a smart purchase when you buy a test instrument from PCE Instruments. PCE got its start in the Hochsauerland district of Germany in 1999 and soon won its place as a major player in the test, measurement and inspection equipment market by providing customers with its own PCE-branded measuring instruments as well as handheld, portable and bench- or desktop analyzers, testers, meters, gauges, detectors, data loggers, sensors, scopes and scales from reputable manufacturers. Today PCE remains a trusted partner for measuring, laboratory, control and weighing solutions. For more details about PCE's backstory, please visit the About Us / Corporate History section of our website.