PCE Instruments is your global source for test instruments and digital measurement equipment device sales and service. PCE Instruments is a manufacturer of a wide range of test instruments (handheld and fix installed) for nearly all measurement parameters. We distribute our devices direct to you from our online catalog, and also sell top quality products made by other first class manufacturers.
The wide range of test instruments that we offer can be used for handheld mobile testing in the field, fixed installed continuous reliable measurements at your job site or facility, or entire systems designed for your particular application. Call us today and let us be your solution for virtually any parameter of material, force or particle measurement, or problem isolation.
In the modern technical world, it is impossible to imagine a professional without appropriate kit of high quality testing equipment, tools and supplied accessories (probes, plus, connectors etc.).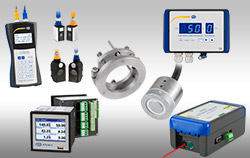 Knowledge plus designed for professional application multifunctional testers and test instruments help to achieve the best results in monitoring different processes, detection and elimination of all possible problems, including voltage drops, force, power, current, isolation leaks; these test instruments help to check the battery life, cable quality, to detect moisture, pressure, temperature, force, humidity, vibration levels and more. We should not forget about taking measures of precaution when it goes about life quality. One of the topical issues is water quality – and that is where the testing instruments is "in the game again". Thus, there is probably no sphere where the testing equipment would not be necessary.
Our devices are of the highest industry standards, and primarily are used for quality control and product testing in industrial settings, scientific research facilities, commercial applications, also government institutions, professional sports and outdoor activities, and in military operations. For sure, our test instruments may be applied in education for demonstration and electrical tests or used by, e.g. electricians for electrical installations in their daily work.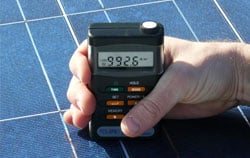 Since solar energy is gaining more and more "weight" in the modern world, there are also special testing kits for those who deal with the "solar world" and need special test instruments for installation or testing of the solar panels. All test instruments are delivered manufacturer calibrated. PCE Instruments is certified to the highest industry standards in all of our measuring instruments. The test instruments are used in the HVAC systems (heating, ventilation, air conditioning), and since energy saving is of pivotal importance on the global level, it is a must to use the latest and most progressive equipment in this sphere.
Together with the device you will receive a protocol of control, calibration and verification done by our quality certified associates. At PCE Instruments we are constantly updating devices and innovating new test instruments for the industry. We provide our customers laboratory capacities to calibrate the test instruments according to ISO, NIST, DAkkS. Our qualified professional associates can also have the test instruments verified legal for trade.
PCE Instruments is also a consultancy company and provides services for custom instrument design, installation, calibration, maintenance and on/off site monitoring. One of our associates can provide you with the support you need to tackle that large project or installation. Over 20 years in the industry, and the hundreds of combined years' experience of our associates can solve any measurement knowledge deficit or information flow issue large or small. We are interested not only in the test instruments sales, but also in the development, growth and search for new solutions. Our colleagues attend training courses regularly in order to keep up with the modern technical innovations and developments and carry out constant modernizations in the electronic and digital test instruments in order to provide our customers with the testers in which the long-term stability, repeatability of measurements (good precision), resolution and accuracy are of a primary importance.
PCE Instruments is based in Germany (headquarter). With 11 subsidiaries all over the world, we are expanding our global reach to better serve the expanding global industry. Call or email us today and browse our wide range of benchmark industry standard equipment. Test, Test, Test - PCE is all about Test instruments. There are products of all price ranges, so that you could find the most suitable option for solving your problem.
Test Instruments Calibration
All test instruments, scales and balances represented for sale by PCE Instruments as manufacturing company and test instruments supplier are precalibrated (manufacturer calibrated). In case you need a special calibration certificate, we have the ability to do the ISO 9000-, QS 9000-,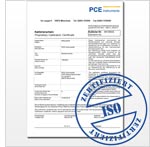 GLM-, DAkkS-, UKAS-, NIST- Certification / Calibration for the test instruments as an option. The calibration certificates for test instruments, measuring instruments, scales and balances do have worldwide acceptance (for example: ISO is accepted in the U.S. as equal to NIST) and validity.
The DIN ISO test instruments calibration process explained when ordering a thermometer: The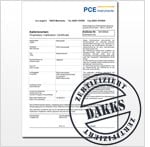 customer orders an industrial thermometer with ISO calibration certificate. The laboratory calibrates this thermometer at two temperature points (the customer can e-mail two temperature points he wishes to us, example: -10 °C and +60 °C (in case no data is given, two standard temperatures are chosen). The calibration procedure will be documented and the customer will receive a special test report including company name and address and reference test instruments used while testing.
Some of the test instruments and scales and balances are verifiable (may be for use in trade = legal for trade). Mainly in commercial use when the test instruments or balances are used to determine the price of goods to be sold, it is required to have the instruments verified as legal for trade. The verification must be renewed after a certain time period. Also in case the product has to be repaired, a re-verification must be done to make sure that the test instruments are in accurate condition. So the approval is valid.
For adjusting / calibrating of scales and balances class II, we use the postal area code. Why? These balances have to be adjusted for their location & geological height) of use, due to the varying influence of gravitational forces.
PCEs worldwide company locations for development, production and warehousing on four continents.
1. PCE Iberica S.L.
2. PCE Produktions- und Entwicklungsgesellschaft mbH
3. PCE Deutschland GmbH
4. PCE Americas Inc.
5. PCE Instruments Chile S.A.
6. PCE Instruments UK Ltd.
7. PCE Instruments France EURL
8. PCE Italia S.R.L.
9. PCE Instruments China Co., Ltd.
10. PCE Instruments Hong Kong Limited
11. PCE Teknik Cihazlar Ltd.Sti.
12. PCE Brookhuis B.V.
PCE Videos show various test equipment / test instruments, laboratory equipment and controls in practical use (for environmental, industrial, laboratory measurement and R & D projects) as well as a wide range of scales and balances. To watch all videos click PCE test equipment videos

here.
PCE Instruments have tested its measuring instruments in the Antarctic. With the intention of checking if our test instruments have the capacity to resist the extreme temperature provided by such an environment, and to see if small changes occur in the joints of the thermal insulation that might cause a micro-climate to exist within the limits of the devices. The teams of engineers conducted astronomical, geological, ornithological and environmental surveys with great success, thanks to test instruments provided by PCE Instruments for ozone, pH, ultraviolet light, airflow measurements to name but a few.
The Antarctic is a natural laboratory that contains properties that hint to the origins of the earth and the Solar System. It's clear to see the role the Antarctic ice plays, thanks to the microscopic pockets of air that remain trapped in layers of ice. It is these pockets of air that are extremly important in the estimation of different climatic changes (pressure, temperature, humidity) that have occurred upon the earth's surface over time. These measurements can be used to show how the earths climate /the envoimental condition has / have changed and can even be used in conjunction with future predictions to show how the climate will change in the future, if certain scenarios come to exist and we do not change our ways in terms of usage of fossil fuels.
Contributing factors of climatic change are the greenhouse effect, and the depletion of the ozone layer in the upper atmosphere, permitting UVB radiation to reach the planet's surface. This has been caused, in part, by increased industrial impacts in the last decades. As a result, the earth naturally makes adjustments to effect climate change, these cyclical movements, precession and notation, that are made to the earth's position in relation to the sun, as well as its own cycles and evolution which are evidenced by changes in the earth's atmosphere, marine currents, and external force such as asteroids. The history of the earth's climate allows scientists to determine which geographical area has been affected by climate changes. It's a mistake to believe that a particular geographical region has always been under the same climatic conditions through its history. What's certain is that an atmospheric change on the planet will result in vast changes for people today and this is the reason why so many people are afraid of climate change and that is the reason why to use test instruments for evaluation.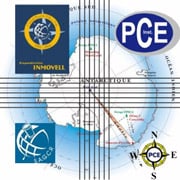 PCE Instruments offers a wide range of test instruments, as absolute moisture meters or anemometers to wind speed and wood moisture meters as well as numerous other gauges.
But which criteria should test instruments for the special application fulfill?
First, it is necessary to define the physical parameters to be measured. If, for example, it goes about temperatures, a thermometer is needed, if masses are to be determined, scales or balances can be used. Often with the help of a test instrument one can determine physical parameters or properties of materials and products via a replacement measuring method. Thus, for example, it is possible to determine the material quality of steel by means of a hardness tester. If the field of application is defined, the further questions will help to move in the right direction when selecting a test instrument.
Is the meter supposed to be used sporadically or daily?
For test instruments, which are used daily, for example, to check the quality of products, reliability, safety from failure and robustness are important. Here you should not save at the wrong end, because nothing is more annoying than an unavailable measuring device which is needed every day for quality control. Of course, this criterion is more than important even for the sporadic use of measuring instruments. However, it is often the case that in the test instruments in the lower price segment special functions have to be omitted or swings in accuracy must be done, in favor of the price. This leads to the following question:
Is a special accuracy required?
Simple combination gauges have a lower accuracy compared to professional test instruments for a special application. This can be explained very well on the example of a temperature test instrument. A simple thermometer at a low price like the PCE-EM 886, which has many other functions, like humidity measurement or sound level measurement, has a relatively high measurement error.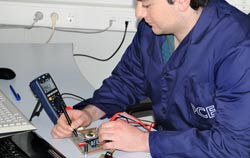 This instrument should not be used for laboratory or calibration applications, since this does not meet the required accuracy for this application. In contrast to this, there is PCE-HPT 1 temperature measuring instrument which has a very good accuracy and much fewer additional measuring functions, because this test instrumenthas been designed and produced for one purpose only: accurate temperature measurements of different media with the help of an immersion probe.
Are special functions in the test instrument required?
Test instruments of different classes and properties have different functions and also various special functions. These special functions may be:
- Data memory: a single measured value memory, which stores the measured value from the display on the button press. Depending on the test instrument, this can then be read out by the button press or via interface.
- Data logger: an internal data memory in the measuring device, which stores the measured values cyclically and permanently. Frequently, different memory rates can then be set in the measuring device.
- Filter: some test instruments offer the possibility to show the displayed measured value filtered. So, for example, in a sound level meter, the measured value is filtered over frequency (A & C filter), in a wind meter – by the time, for the maximum wind speed and average wind speed or in a roughness measuring device – according to the selected measurement distance.
- Data interface: in addition to being displayed, the measured value is transferred to an additional evaluation unit via interface. This interface can also be used to read out of the internal memory. The following interfaces are available in most measuring devices: USB, RS232, RS485, Bluetooth and Ethernet.
How can I avoid buying the wrong meter for my application?
In principle, you can always contact our technical support by telephone, email or chat. We gladly present and demonstrate the special test instruments at your or our premises personally.
Furthermore, you should note that there are measuring devices for one and the same measuring task, which are named differently due to national or regional differences in language. So, for example, a measuring device for the determination of the material moisture is by one called "drying oven", by another – "moisture measuring scales", by the third – "kiln". This often leads to confusion and misunderstandings. To avoid this, we are at your disposal for comprehensive, metrological consulting at any time. Contact us, we look forward to hearing from you.
Another important criterion when selecting a measuring device is the exact application.
Should the device be required for internal control in the company or should the measured values be compared with the measured values from customers or suppliers. In the latter case, particular attention must be paid that the measuring instruments of the same type are used. This increases the comparability of the measured values and makes the error detection in future easier. In addition, it must be checked whether the measuring instrument must be calibrated or certified. This is often determined by the quality manual of your company or customer, or supplier. Many test instruments from our assortment come with an ISO or a factory certificate. It is also possible to calibrate the high-quality test instruments in compliance with DakkS.